5 Lions Gold
Explore your way through this Chinese themed slot game 5 Lions Gold by the gaming provider Pragmatic Play. Take a spin and join in on all the fun with the chance to win huge amounts with each spin. When you play 5 Lions Gold, you will be sent spinning with what you can win with every spin. In this slot, you are given the chance to win big prizes, as well as the chance to enjoy bonuses such as free spins, cash multipliers and more. If you are interested in playing a slot game with the chance to win lots of treasure then, make sure you play this slot today at Slot Shack and see if you could win big today!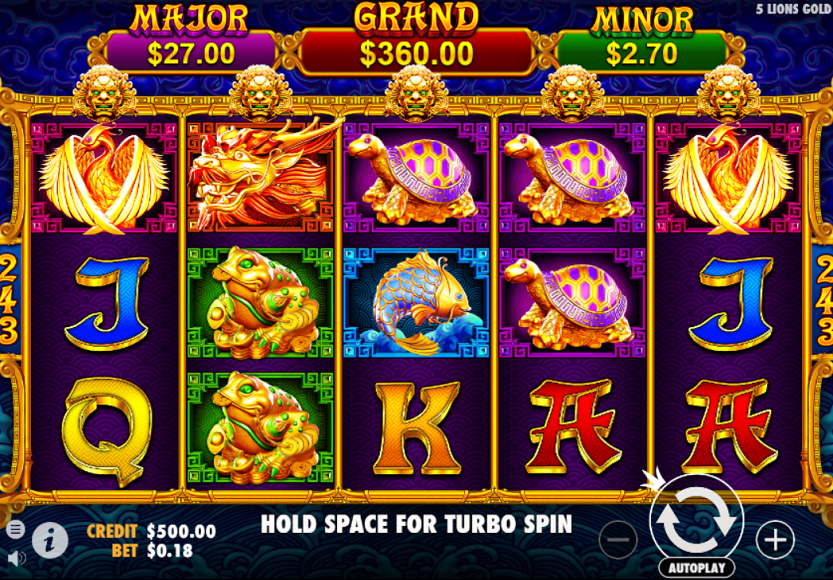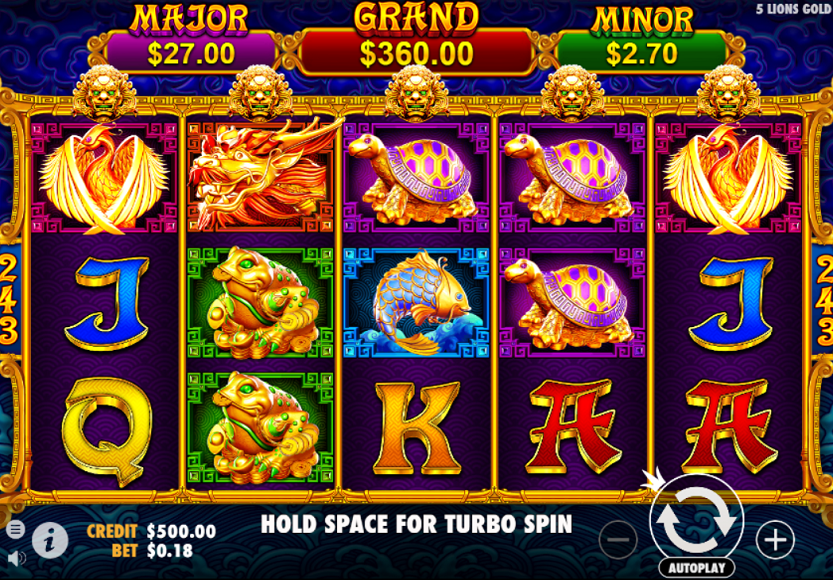 Design
The design of the slot game 5 Lions Gold shows a Chinese theme through the appearance of the game along with the graphics and images used. The theme of this slot can be also be seen in the background of the reel with the images used.
When you play this slot, the symbols in this game include the dragon, the bird, a frog, a fish and a turtle, these are the symbols that are high paying. The other symbols that are low paying include the letters K, Q, A and J as well as the numbers 9 and 10.
Along with these symbols, other symbols appear on the reels as you spin your way to some huge amounts of cash. These are the bonus symbols and if you are lucky enough, these symbols can help you win more.
How to Play
As you play 5 Lions Gold, you will find that other slot games are similar as you will have to decide on an amount to bet and then click the spin button to see what cash amounts you can win. This may seem simple, although, if you haven't played slots before or if you want to find out more before you spin, you can read over the instructions. If you read the instructions, you can find out what the symbols are, how many paylines there are as well as what the bonus features in this slot can provide for you.
When you want to place bets in this slot, click '+'or '-' either to make a high or a low bet. You can change the amount you want to bet at any point by clicking on these buttons every time you spin. 
Game Features
In the slot game 5 Lions Gold, the wild symbols transform into all other symbols except the scatter symbols. In this slot, the scatter symbols are triggered on the reel 3 or more times which can activate free spins. as well as these features, you can win cash multipliers as the minor symbol, this allows you to win 15x the amount you bet, the major allows a 150x total bet and the grand allows a 2000x total bet.
5 Lions Gold a fun and exciting slot game that gives you many opportunities to win some lots and lots of gold. Take a spin today to see what you could win today!
Game Stats
Paylines
243
Min. Bet
£0.18
Max. Bet
£90
Bonus Round
Bonus Spins, Wilds