7-UP
Getting bored with traditional slots? You may want to give 7UP! a few spins. This fun game is from the masters at Gamevy is available now for you to try at Slot Shack.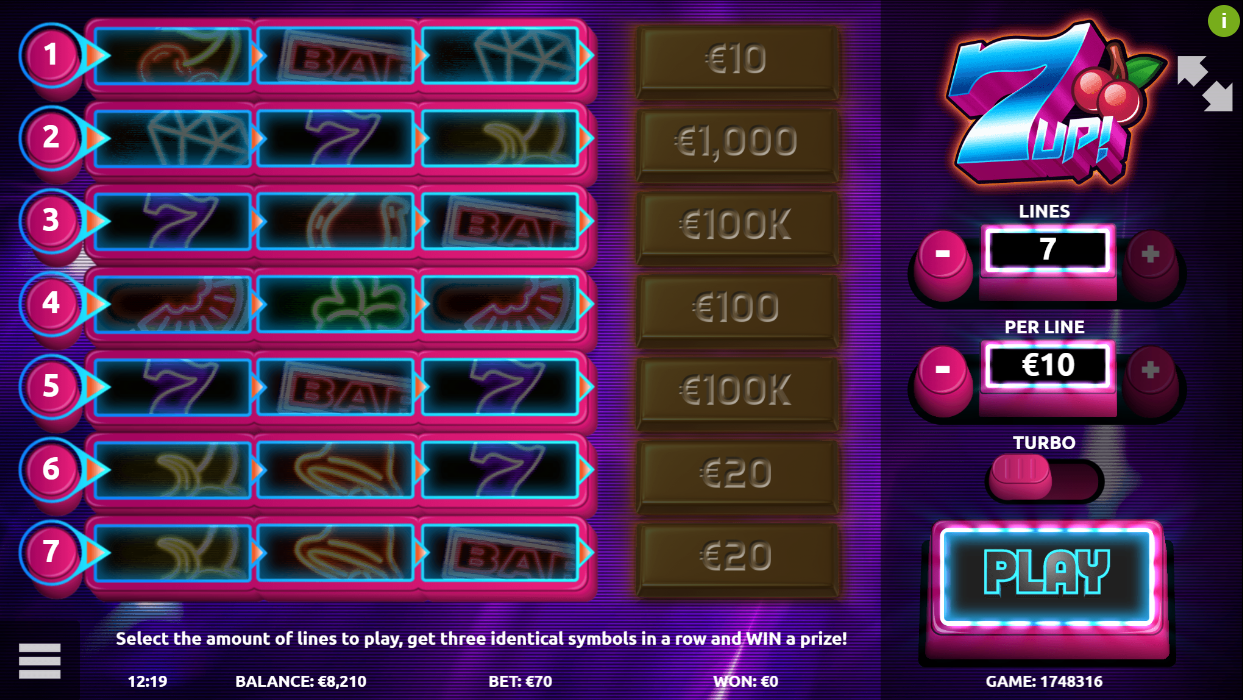 Design
Despite not being your typical slot, 7UP! still has some ties to the games that came before it through its fun retro theme. The symbols all look like they could have stepped straight from a traditional slot machine. You will feel right at home as you play, possibly even feeling like you have stepped back in time to the arcades of childhood.
When it comes to the symbols themselves, they are a cherry, a lemon, a banana, a pineapple, some grapes, and a slice of watermelon. There is also a set of higher paying symbols; a horseshoe, a clover, a diamond, a bell, and a bar symbol. The highest paying symbol in the game is a 7.
How to Play
This game is not a slot, as such, but is in fact a scratch card game. If you have never played a scratch game before, we can assure you that they are just as fun as any slot.
When it comes to the controls, the set-up is exactly the same. First you need to decide what wager you are going to place. The first step of this is to choose how many of the lines you want to bet on. Whether it is just the one or all seven, the choice is yours! You then need to decide how much you want to bet per line. Bets can be placed between 2p and £10 per line so there is quite the scope for you to explore.
Completely satisfied with your bet? Then hit the Play and see if you land a win!
Game Features
Since 7UP! is a scratch game, it doesn't have Wilds or free spins bonuses. It would be a little difficult to incorporate something like that into a game like this. However, it does have a few tricks up its sleeve.
This game, and others like it, are great for instant wins. If you love the satisfaction of pulling in a win, you need to try playing slots. There's no waiting and wondering with a scratch game. Just press Play and see what happens.
The wins are none too shabby too. With the max bet on, three 7s will land you an amazing £100k! Imagine if you landed that across all seven of the lines, that would be a life-changing payout of 700k! Not everyone can afford to play at the maximum bet, we understand, but even the lower levels offer some great chances to win. If you are looking for instant win gratification with some brilliant prizes to go with it, you cannot go wrong with this game.
So, what more do you need? 7UP! is a cute arcade game with some tie-ins to traditional slot games. The game itself is exciting and fresh and you will not have a dull moment playing it. Whether you are looking for something other than a slot to play or simply spreading your wings in the hunt for something new, you should try this game now!
Game Stats
Paylines
7
Min. Bet
£0.02
Max. Bet
£70
Bonus Round
Scratch Card