A Visit From St Nick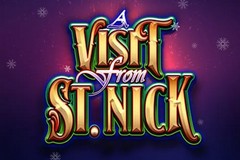 A Visit from St Nick is an exciting Christmas themed game provided by High 5 Games which lets you win huge jackpot wins whilst you play. Take a spin and join in the Christmas fun as you plat A Visit from St Nick today at Slot Shack!
Design
A Visit from St Nick is a Christmas themed game which includes festive colours and symbols.  The festive colours stand out against the background as they are very bright compared to the dark background. There are many different symbols in this game and they are worth different amounts, for instance, there are high paying and low paying symbols. The low paying symbols are the letters, a star, stocking, Christmas tree bauble and the man holding the candle, Santa and the logo of the game are the high paying symbols.
How to Play   
A Visit from St Nick is an easy game to play and allows you to win huge jackpots with every spin. To find out what symbols are high and lower paying you can read over the instructions. After reading the instructions you will have a better knowledge of how this game works.
When you have read the instructions and have a clearer understanding of how the game works you can then place a bet. To place a bet, click on the button with the paylines on it at the left side. Scroll through the numbers to choose the amount you would like to bet, you can change your betting amount at any time by clicking on this button and scrolling through the different numbers.
After you have decided the amount that you want to bet, click on the green arrow located on the bottom right-hand side of the action bar to start spinning and see what you can win.
Game Features
A Visit from St Nick gives you the opportunity to increase your winnings with the bonus symbols available as you play this game. One of the great features in this game is the bonus feature that lets you spin for free up to 12 times. To unlock this feature, you have to land at least 3 of the reindeer symbols on the reels. Another feature available throughout this game is the scatter symbols which appear as the game logo and are the highest paying symbols in the game. The wild symbol (colourful presents) is also a great bonus feature in this game as it allows you to win more money if you land them on the reels.
We think anyone is going to enjoy the fun festive nature of this slot. If you are wanting a little escapism then this game is perfect for you! Join in on the fun and get in the Christmas spirit and play A Visit from St Nick today!
Game Stats
Paylines
243
Min. Bet
£0.05
Max. Bet
£200
Bonus Round
Free Spins, Bonus Symbols