Age of Spartans
Take a trip back to ancient Greece and take part in all the action across the battlefield. If you are looking for a slot game that gives you the opportunity to win huge jackpots as well as keep you entertained for hours then, Age of Spartans by the providers Genii could be exactly what you are looking for. Play Age of Spartans at Slot Shack today for the chance to see what cash prizes you can win today!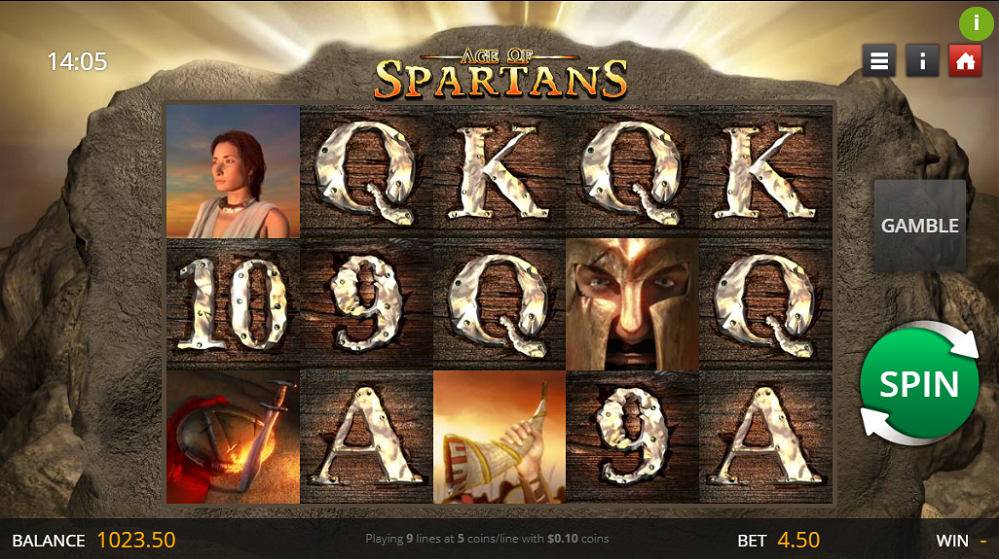 Design
When you play Age of Spartans, you will find that there is an overall ancient Greece theme to it. The ancient Greek theme is displayed by both the background of the game as well as the symbols on the reel. There are many symbols found across the reel and they are each worth all different amounts – low paying symbols include the helmet, sword with shield and the letters and numbers that look like they have been pinned to a piece of wood. The high paying symbols are the horn being held in the air, the woman and the flag.
How to Play
Age of Spartans is similar to many other slot games which makes it fairly easy to understand and play. However, if you are not familiar with slot games, or if you would like to find out some more information about the game before you play then you can read over the instructions. The instructions can give you a clearer understanding of which symbols are the highest and low playing, where the paylines are as well what the bonus features can do.
After you have read the information and found out all the information you need to know before playing Age of Spartans, you can then start betting. To place a bet simply click the bet button and then click the '+' or '-' button to make your bet higher or lower. Once you decide on an amount, simply click 'spin' to see what you can win.
If you decide to bet the same amount each time you spin, you can click the 'autoplay' button. This lets you spin up to 50 times without clicking the spin button each time. Or, if you would like to take a gamble, you can click the bet max button which will automatically let you bet the highest amount. When you bet max amount, you can increase your chances of winning a huge jackpot and even double your winnings.
Game Features
The slot game Age of Spartans, allows you to win huge jackpots whilst you spin. For instance, when you play this game, you can expect up to 15 free spins plus tripled wins during this bonus round, wild symbols that allow you to double your winnings and many other great opportunities to win huge cash prizes.
Take a trip to the ancient Greek battlefields and spin your way to some victories. Play Age of Spartans slot game today for your chance to win huge cash jackpots!
Game Stats
Paylines
9
Min. Bet
£0.01
Max. Bet
£11.25
Bonus Round
Various