Alchymedes
Looking for a slot game that will keep you entertained for hours? Play Alchymedes by the creatives at Yggdrasil. Take a spin and see what you could win today at Slot Shack.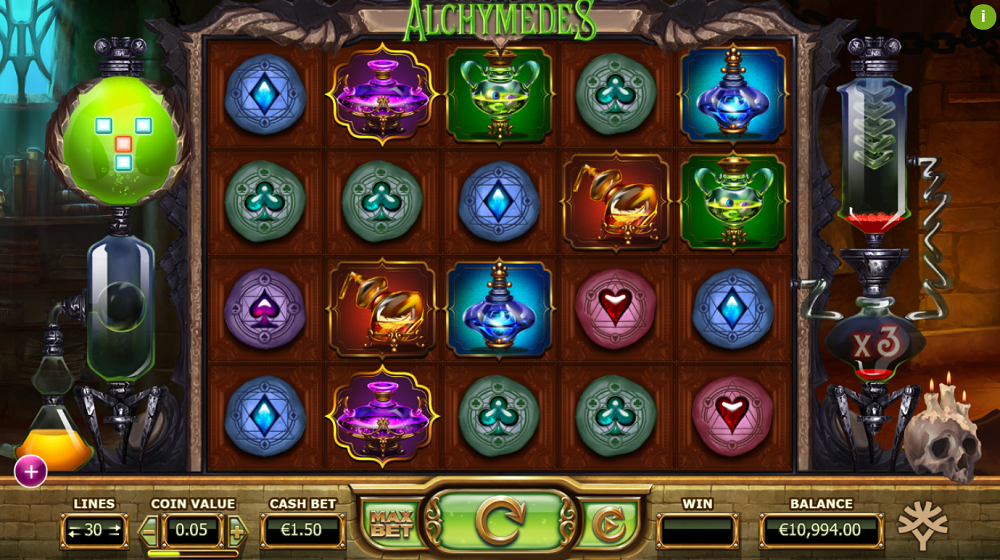 Design
The overall design of this game is a magical fantasy styled slot game. The background shows a laboratory and the symbols on the reel appear to be potions. Each symbol on the reel is worth different amounts, for example, some are low paying whereas others are high paying. The low paying symbols appear as small round magical items and the high paying symbols include the big potion bottles in a range of colours. There is also another symbol which can appear on the reel as you play, this symbol is the wild symbol and appears as a gold cauldron and it can help you add to some amazing plays to make them even better.
How to Play
Alchymedes is a fun and simple slot game to play, however, if you haven't played other slot games or you would just like some other information about the game then you can read over the instructions. When you do so, you can find information about where the paylines are, how much the symbols are worth as well as what the bonus features are.
When you are ready, you can begin to place bets and start playing. To place a bet, click the + or the - button on either side of the 'coin value' button to place a higher or lower amount; you can change the amount you want to bet at any time by clicking these buttons.
 Once you are happy with the amount, click the spinner and start set the reels in motion to see if you can land a win! If you click the 'bet max' button and you will automatically bet the highest amount.
Game Features
Yggdrasil know how to put together some brilliant bonus features and Alchymedes is proof they can do that without free spins. Yes, you read that right, no free spins. However, you should not let that put you off. This game still has plenty to offer a player.
One of the first features you will encounter is the expanding Wilds. When you land a Wild cauldron on the reels, it will expand into the pattern displayed on the left. This lands multiple Wilds on the reels and could grab you a few more wins. The other bonus feature is the Win multiplier you can see on the right. While you play, you will light up the squares of the reels with your wins. When all are lit, the final win will be multiplied by the figure on the right.
You will then be taken to a screen where you can adjust the Wild pattern and the final multiplier. Would you like a higher multiplier or a larger pattern? The choice is yours!
Take a trip to a fantasy land and mix some potions with Alchymedes now.
Game Stats
Paylines
30
Min. Bet
£0.30
Max. Bet
£60
Bonus Round
Various