Amazing Aztecs
Transport yourself back in time and join in the adventure as you play the slot game Amazing Aztecs by the gaming provider Just For The Win, enjoy brilliant bonus features and amazing graphics as you play this fascinating slot game.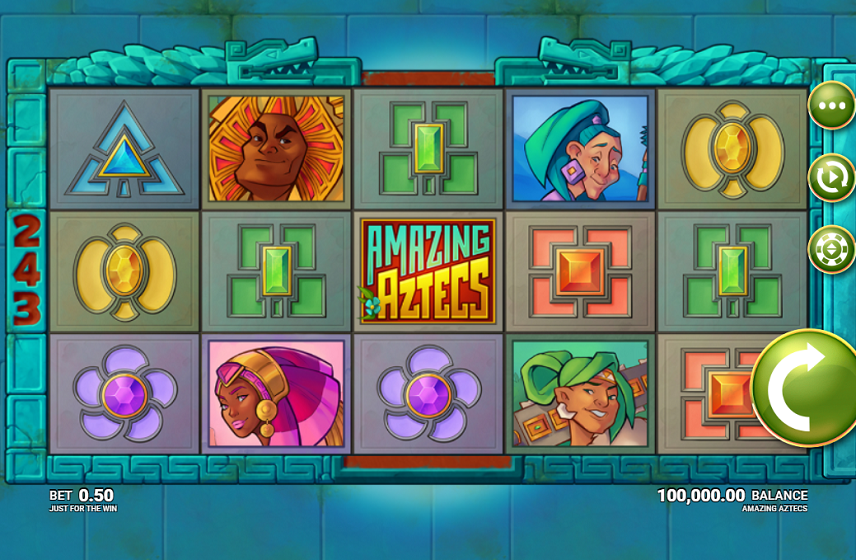 Design
The design of this game shows an overall Aztec theme with the images and symbols used in this game. The symbols are bright and colourful which makes them stand out against the background and they are very eye-catching and beautiful. When you play Amazing Aztecs, you will find that each symbol on the reel is worth a different amount. The high paying symbols are a woman with blue hair, the woman with green hair, and the woman in the pink background and the man in the orange background whereas the low paying symbols are the orange gems, yellow gem, the purple gem, green gem and the blue gem. The highest paying symbol in the game is the logo for the game itself.
How to Play
Amazing Aztecs is a brilliant slot game that allows you to win brilliant cash prizes and is straightforward to play. All you need to do is simply place a bet and spin for your chance to win. However, if you haven't played slot games or if you would like to find out more information about the game before you play Amazing Aztecs, then you can read over the instructions.
Once you have decided on how much you would like to bet, spin the reel by clicking the button on the right-hand side of the reel and start spinning to see what cash prizes you could win. There's also an autospin feature if you would like to play multiple rounds with the single click of a button.
Game Features
Amazing Aztecs has not got many features but we still think it is an amazing game anyway. The best feature by far is the Giant Symbol Respin. Whenever you land a win on the reels, you get the chance for a respin with a Giant Symbol. This is one of out favourite bonus features as it can lead to some brilliant wins. You will get a 3x3 matching symbol dropped on your reels. If you can hit some other symbols to complete a payline then a great win is going to be on its way to you.
Some people might feel a little disappointed since Amazing Aztecs doesn't appear to have many other special features. However, you should not let this get you down. There is still plenty to love about this game and we are sure that no-one will miss the other more common bonus features while you play. Alternatively, you may enjoy this game for its simplicity and its lack of crazy features bombarding you from every side.
If you are looking for a fantastic slot game that can entertain you for hours, play Amazing Aztecs today and see what cash prizes you can win!
Game Stats
Paylines
243
Min. Bet
£0.01
Max. Bet
£100
Bonus Round
Respins, Giant Symbols