Aztec Secrets
Aztec Secrets by the gaming provider 1 x 2 Gaming is an Aztec themed slot game which is full of fun excitement and plenty of chances to win with each spin. When you play, you will find that this slot is also filled with some brilliant graphics and sound effects so, make sure you have a go and see for yourself how good the graphics are in this game. As well as plenty of great graphics to enjoy there are plenty of chances for you to win big in this slot and especially when it comes to the games features such as wilds, free spins and bonuses. If this is a game that you would enjoy playing then, make sure you give it a go and see if you can be in for the chance to win.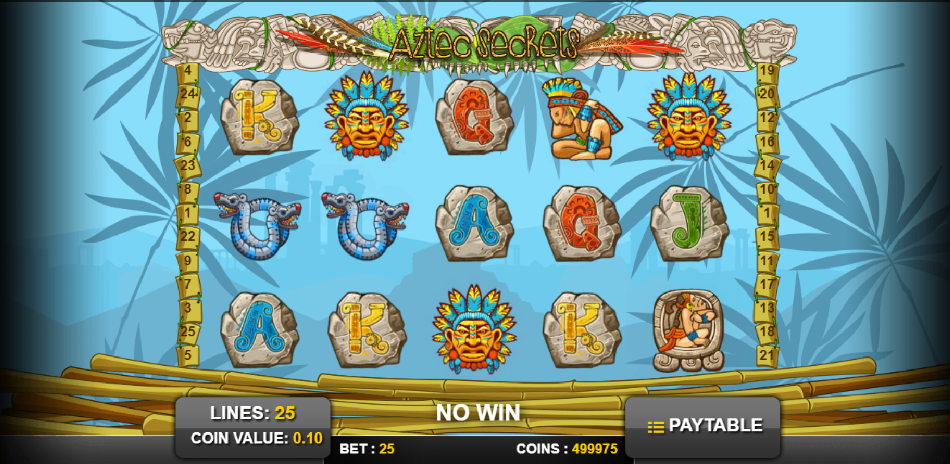 Design
In Aztec Secrets, an overall Aztec theme with the images and the layout found in this slot as you play. This theme is also shown in the design of the game which you will notice as soon as it loads.
In Aztec Secret, you will notice the symbols in this slot tie in with the theme of the game and this is because of how the symbols look. For example, symbols that are in this slot show an overall Aztec theme and they are bright in colour. Some of the symbols have animal prints on them and the higher paying symbols have mask images on them. If you would like to make sure you know what each symbol is worth then, make sure you read the paytable.
How to Play
To play Aztec Secrets, you will need to place your bet somewhere between 1p and £62.50 per spin. Once you have decided on how much you can afford to pay, you will be ready to spin.
To win on this slot, you will need to land a matching combination of symbols across one of the 25 paylines. Each win will be awarded depending on the paytable and the higher-value symbols could help you to get your hands on a lot of cash!
Game Features
In the slot game Aztec Secrets, there are plenty of games features that you can enjoy throughout as you play.  The game features in this slot include; scatters, bonus and wild symbols and each feature can allow you to win a different prize. For example, the bonus symbol in this game can give you the chance to win big as the amount you win can be up to x4, the scatter symbol can give you the chance to win free spins and, the wild symbols can substitute for any prize if you can spin it on the right paylines. To activate these bonuses, you must spin 3 or more of these symbols onto the reels.
Overall, Aztec Secrets is a fun slot that can give you the chance to win some huge amounts with each spin. Make sure you give it a go and see what you could win today!
Game Stats
Paylines
25
Min. Bet
£0.01
Max. Bet
£62.50
Bonus Round
Free Spins, Scatter Pays