Birthday
Wouldn't it be great if every day could feel like it's your birthday? Well, now it can with the exciting new game from prominent developer Elk Studios, featuring everything you need to get in the party spirit, including cocktails, cake and the opportunity to win up to £250,000! This is definitely the game to give you that birthday feeling and get you in the mood to celebrate!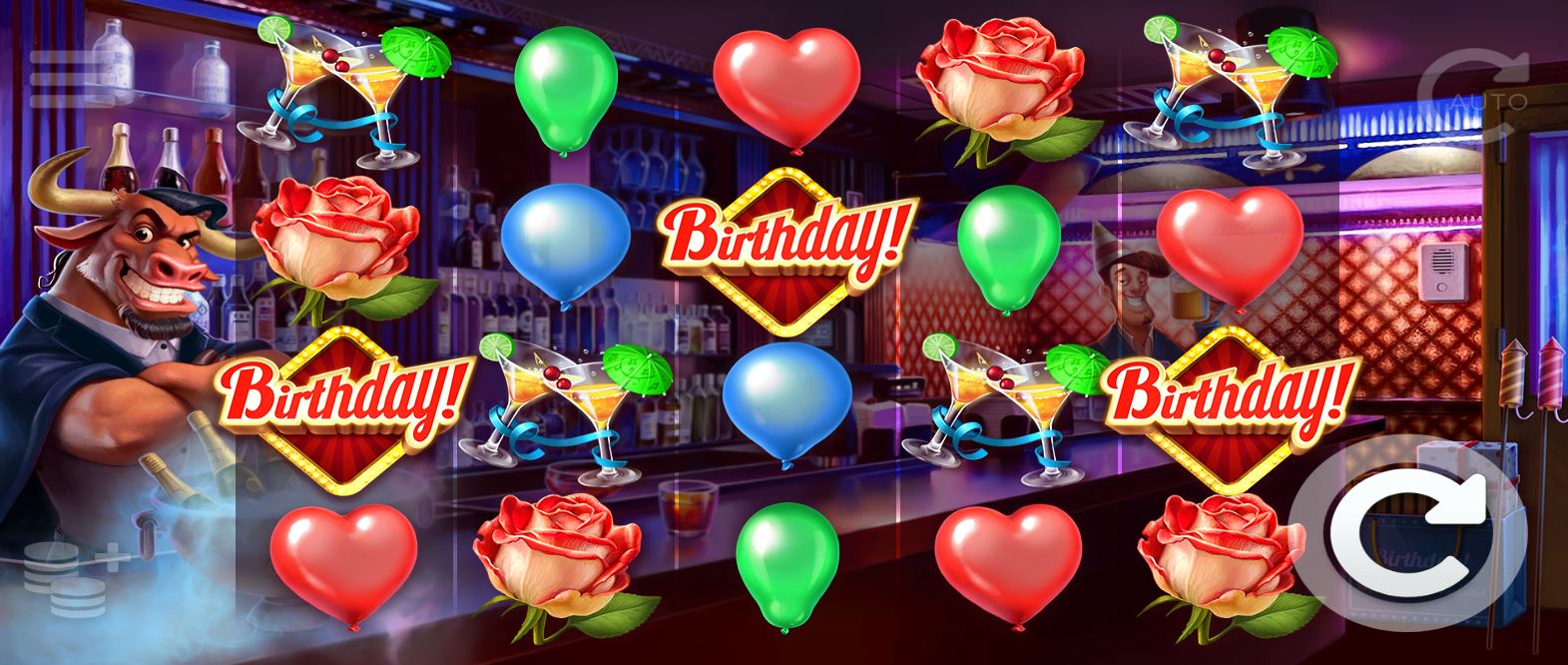 The Design
Kick off the Birthday! bash with some very sophisticated graphics and advanced features including a variety of spin modes to keep you entertained. Who needs a DJ when you control the music!  Game sounds are completely in your control from the easy to use settings menu, as well as offering a quick play option to keep the festivities going for hours.
Finally, what party would be complete without a killer guest list featuring the likes of The Camel, Mr Lake, a very suave looking moose, the mysterious Matador, among others each bringing their own special gifts and what better way to have a truly wild birthday than with the amazing wild card features activated randomly to keep the surprises coming!
How to Play
This is an incredibly easy game to play, with clear instructions and an engaging and colourful layout. No matter if you are a casual player or a high roller, Birthday! has a betting strategy to suit you.
Each bet is worth 100 coins and total bets placed can range from 10 pence to fifty pounds. Bets are placed by selecting the coin stacks on the bottom left of the screen and the game offers a variety of betting strategies including optimised betting. The leveller allows you to raise your bets after 5 consecutive losses, the booster will increase your bet level after a loss and the jumper lets you increase your betting level following a win.
Once the value of the bet and the strategy you wish to use is selected, the spin button can be activated and the game begins.  The number of game rounds you play can also be controlled by the handy 'auto-spin' function, activated by holding down the spin button and manually setting it to the number of spins you want.
Game Features
Aside from the incredible 178 paylines, 5 reels and 4-row slots, this game is rich in additional features all easily accessed from the paytable found within the settings icon.  A range of multipliers can be found and the game uses symbols such as balloons, flowers and cocktails, all with increasing value and if you are lucky enough to spin the Birthday! symbol you are treated to a multiplier of up to x1500! The game can be played in four different spin modes including happy spin and free spin and it keeps you guessing with randomly triggered wild features.
A great feature of Birthday is the 'reality check' option. This gives you the ability to control how long you play for from ranging 15 to 60mins and once you are ready to collect your winnings you can choose how you wish to receive this; as coins or as your selected currency, all controlled within the settings menu meaning you can end your night in style!
Game Stats
Paylines
178
Min. Bet
£0.10
Max. Bet
£50
Bonus Round
Free Games Bonus