Cabaret Royale
When it comes to innovative, creative slot games on the web, you only need to look at Slot Shack who have the latest and greatest from all the big developers. With literally hundreds to choose from you are spoilt for choice. Cabaret Royale is one of those slot games that appears on this site, from the professionals at 2 by 2 Gaming. With a total of 3 bonus features available and a very different 8 reels to spin, it is a game you don't want to miss out on.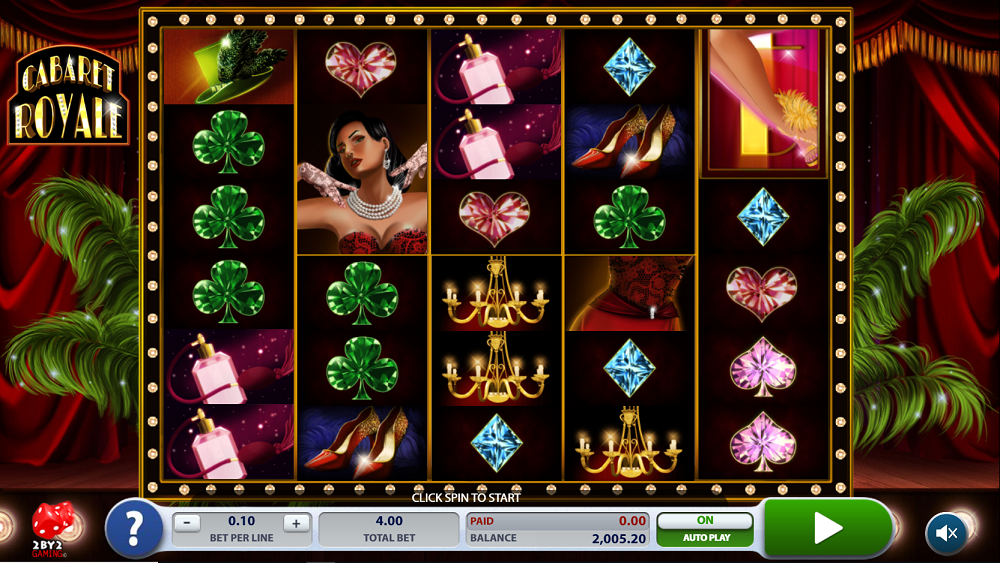 Design
This game has been designed to be compatible for both mobile and computer use. With awesome graphics and sounds, no matter what device you are playing from, there is no compromise. You will see immediately that there has been a lot of attention to detail put into the design. Wait till you get into the bonus where the explosive sounds and graphics really do add a lot to the entertainment.
The slot has a background of a cabaret stage and all this is no use unless you have dancers to accompany this. Two of the more rewarding symbols are the male and the female cabaret dancers that can appear on reel 1 and 8. These are effectively wild symbols. There are lots of other symbols which include your typical J, Q, K however they are not letters but the symbols you would see on a deck of playing cards. Not to forget the top hat and high heels!
How to Play
You can play this 60-line slot game manually or you can select the automatic spin option. In addition to this, the reels on this slot are slightly different with 5 vertical lines but 8 reels. Effective the 2nd to 4th vertical lines are split in two giving you a total of 8 reels. Make sure to check out the paytable if you need some pointers for the game.
Game Features
There is a total of 3 different bonus features that can be triggered on Cabaret Royale. This is far more than you would normally expect to see on slot game which supports why this slot is getting raving reviews. The first of the bonuses is the Encore. When you have a win of any type, randomly the Encore could appear and increase this significantly with a multiplier.
The second bonus is the matching wilds. With the cabaret dancers being the wilds, if they appear in reel 1 or 8 over the full vertical line then this will be matched into the other one also. If you have some good paying symbols in-between this then this would be a good win.
The final bonus feature is the free spins (with a bit of a twist). Hit any of the 3 bonus symbols then you will be presented with a choice. 3 options will appear which allows you to choose the level of free spins you are awarded. This includes free spins on their own or free spins with either the matching wilds active or a high possibility of you getting several Encores.
Cabaret Royale is waiting for you to start the party. Grab your glad rags and head down to this hotspot at Slot Shack now!
Game Stats
Paylines
60
Min. Bet
£0.05
Max. Bet
£50
Bonus Round
Various