Extra Cash!!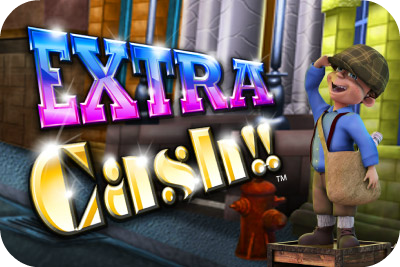 Extra, extra read all about the hottest slot game out there!
The Extra Cash slot game takes us back to the turn of the century to discover a whole load of headlining jackpots. It has a wonderful sense of nostalgia going for it and there's plenty of fun to be had here - we didn't have to think twice about adding this one to our collection here at Slot Shack.
Design
This game has a theme that will remind you of old time London, with paper boys lining the streets. The five reels and four rows of the game are decorated with symbols that attest to this theme. This includes things like printing presses, bikes and some poker symbols too.
The lines of this game criss cross the reels and you can enable up to 50 of them. If you prefer to bet smaller, you can customise these with the bet and lines button under those reels. With so many lines available to win on, it's no surprise that this game is popular with players.
Game Features
This game is filled with special features that give you loads of extra ways to win. One that you'll want to watch out for is the wild newspaper, which can appear at any time. Observant players will notice the newspaper boy beside the reels, he can throw these wild symbols onto the board too.
Then, the printing press can also reward you as it serves as the scatter symbol. With three of these you'll gain entry into the free spins round. This will allow you to spin those reels without spending a penny and the wild symbols will continue to help you out.
Once you've won the jackpot of your dreams you can use the gamble feature of this game to your advantage. Simply guess which suit or colour the next card drawn from the deck will be. The more specific you are, the higher the rewards will be. This is a simple game but if you play your cards right then you could make yourself a huge jackpot.
Game Stats
Paylines
50
Min. Bet
£0.01
Max. Bet
£500
Bonus Round
Various