Super Burning Wins
Are you looking for a classic video slot? Try Super Burning Wins from renowned industry developer Playson. This update on the fruit machine formation we all know and love is available to play now at Slot Shack. Come take a look and spin a few reels yourself to understand why fruit machines have remained popular and are sure to stay that way for many years to come.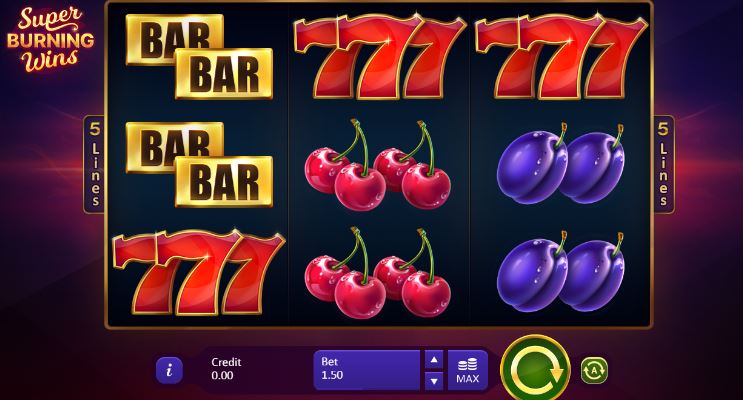 The Design
Super Burning Wins is, at its heart, a classic fruit machine game. Anyone familiar with the format will recognise the symbols used here. There are four luscious pieces of fruit – plums, lemons, oranges, and cherries – as well as the golden bars, bells and lucky red number 7s everybody can associate with a slot machine. There is even a tricksy little blank cross but, don't worry, even this gets you a small win.
How to Play
Everybody should playa traditional fruit machine like Super Burning Wins just for the sheer simplicity of the gameplay. The reels are laid out in a minimal 3x3 format. Beneath them, you can find your controls.
On the furthest left, you can find your paytable. This details the win you will receive for each of the combos in the game as well as the 5 different paylines that can score a win. All you will need is three of the same symbols matching along one of these paylines. These wins range from low with a match of 3 blank crosses to an high incredible win with those lucky number 7s.
Your bet is adjusted using the controls in the middle of this panel. The largest segment tells you how much you are currently betting. Use the arrows to its right to adjust the bet to a level you are comfortable with. If you are feeling particularly lucky, you can press the Max button and get ready to bet £100.
The glorious green Spin button is right there ready for you to hit. Send the reels spinning and see if you win big. For those who find 1 round at a time a bit of a yawn, there is also an autoplay function. Select one of the pre-determined numbers of spins and prepare yourself to grab all the wins you can as those reels fly past. There are also limit options designed to halt the autospin if you wish to leave the game running but still want to remain in full control.
Game Features
Super Burning Wins also has a fantastic multiplier bonus available to double your win and make it that bit sweeter. If you manage to collect 9 matching fruit counters across the reels, you will unlock a special 2x bonus that will take your win even higher!
This slot game might be a little too stripped-down to those used to wild slots brimming with features, but it is still not without its merits. It looks beautiful and definitely serves as a modern take on the classic fruit machine. Longtime slot lovers may find themselves bored by the lack of content but newcomers should take their time to explore this game's functions. It is a nice little slot that should be present in anybody's repertoire. Give it a go for yourself at Slot Shack now!
Game Stats
Paylines
5
Min. Bet
£0.10
Max. Bet
£100
Bonus Round
2x Multiplier