Vikings Go To Hell
Vikings go to Hell is an exciting and sometimes terrifying new video slot game brought to you by innovative developers Yggdrasil that will soon have you reaching for your axe and horned helmet! It is packed with fantastic features such as demon fights, free spin modes and even treasure chests that are sure to get you in the pillaging mood!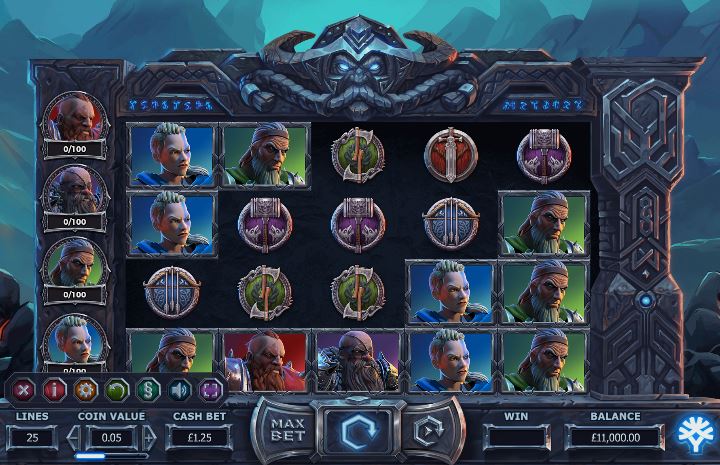 The Design
This game has advanced graphics and high-quality animations designed to enhance the overall gaming experience.  It has 25 paylines, with 4 rows and 5 reels and boasts three different types of spin mode. It also features impressive sound effects to get you in the Scandinavian spirit, a feature that can be controlled through the settings menu. Aside from the audio controls, the visual displays that accompany the gameplay are bold and dramatic, offering an extra dimension to the action.
The symbols used in the reels all feature Viking-themed weaponry such as axes, crossbows and swords with four different characters each more formidable looking than the next!  A rage collection is featured, allowing you to collect rage points throughout the game and once 100 points have been reached you can substitute this for 7 free berserk spins, increasing your chances of winning!
How to Play
Whilst the game offers a completely immersive experience, it is incredibly easy to play. It is completely customisable allowing you to select your coin denomination which can range from 10 pence up to a maximum bet of £125.00 and once you have placed your bet, you simply press the spin button to begin the game.  Base game demon fights are featured when there are 2 free spin symbols on the reels, this initiates a fight with the Vikings and if the Viking wins then you are rewarded with a rage point to add to your collection.
Base game treasure chests occur on the 5th reel and can result in free spins, additional coins and increased points. The game also features an autoplay function which is manually controlled and a convenient settings function that allows you to check your gaming history. 
Game Features
The additional features of Viking go to Hell are exceptional with even Lucifix making an appearance!  There are three varieties of spin mode such as The Lord of the Chains where a number of free spins can be won by demons fighting Vikings on the reels.
You can check your balance at any time and view your coin value at the bottom of the screen.  You can also easily view the multipliers of the various symbols whilst in the game simply by clicking on them with weapons earning lower of up to x60 and character symbols up to x100.
Furthermore, the combination of wildcards, berserk spins, fights and treasure chests along with an exciting video introduction make this an adrenaline filled, unique gaming experience allowing you to win up to x3000 the value of your original bet. With highly engaging content and the promise of victory awards, it won't be long before you are a fully-fledged Viking!
Game Stats
Paylines
25
Min. Bet
£0.10
Max. Bet
£100
Bonus Round
Free Games Bonus