Beehive Bedlam
Get ready for an extra special spin as you play the game Beehive Bedlam Reactors here on Slot Shack. This game is unique and has a really fun theme that we think you are going to enjoy. Beehive Bedlam Reactors offers players cluster wins and there are some bonus features thrown in. Make sure to take a spin here on Slot Shack today for your chance to win!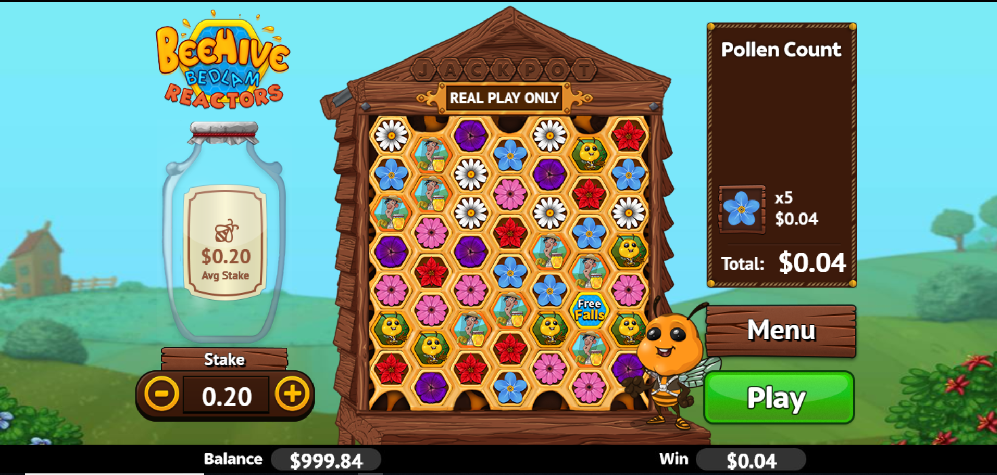 Design 
If you like animal themed games then you will love Beehive Bedlam Reactors. This slot game is based on a beehive and the reels are located within this. There are no standard reels in this game as everything is paid across a grid that looks just like honeycomb.
There are some characters that take the form of the high-value symbols in this game. These include Buzz, Daisy, The Boss Man and the Queen Bee. For the lower-value symbols, you'll find some coloured flowers. These help to add a bit more colour to the game.
How to Play
The great thing about Beehive Bedlam Reactors is that it is really easy to play. The stakes are high on this slot with a maximum bet of £500 per spin. If you want to spend your money in smaller batches then you can also bet 10p per spin. You can adjust this using the buttons on the left of the reels.
Once you are ready to proceed, you will press the spin button. This will add some symbols to your reels and wins will be awarded. You will need to land five or more matching symbols which are connected to land a win. The more symbols, the higher the prize and this is exciting.
You can check the paytable to find out how much each cluster win is going to be worth. This way, you can know what to look out for.
Game Features
Beehive Bedlam Reactors has a few bonus features that you might enjoy as you play. If you want to win the jackpot, you will need to land some of the Free Fall symbols and trigger this bonus. There is a lot of cash up for grabs here so make sure to look out for it.
If you manage to trigger the Honey Jar Bonus in this game, you will notice that Buzz flies onto the screen. If you can avoid the obstacles, you can be awarded a big win.
In Beehive Bedlam Reactors, there are 10 worlds that you can complete. As you do this, you will receive a themed outfit and will have even more to play.
As you travel through the worlds in Beehive Bedlam Reactors, you will notice that you are able to unlock some achievements. There are 15 of these that you can get your hands on so make sure to take a closer look. You might have even unlocked some achievements already.
Beehive Bedlam Reactors is a great game that we love here at Slot Shack. Make sure to give it a spin today and see if you can end up the Queen Bee. There are a lot of bonus features on offer so this is one that you will not want to miss out on!
Game Stats
Paylines
Cluster Wins
Min. Bet
£0.10
Max. Bet
£500
Bonus Round
Various