Aloha!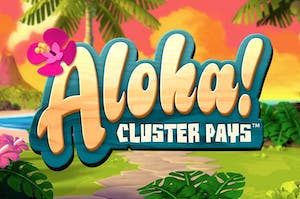 Jet off to a gorgeous paradise and explore the island whilst you spin for your chance to win great prizes when you play the slot game Aloha! Cluster Pays. Enjoy breath-taking graphics along with brilliant bonus features with every spin.
Design
This slot game is filled with beautiful colours and tropical backgrounds which include Tiki items and stunning sunsets. The overall theme of Aloha! Cluster Pays is a tropical paradise theme with the Tiki objects, exotic plants and volcanos. Each symbol on the reel is worth different amounts - some are low paying and others are high paying. The low paying symbols are the tropical flower, clam, coconut and the pineapple whereas the high paying symbols are the Tiki symbols.
As well as these symbols you can find other symbols on the reel that can be beneficial for you as you play. These symbols include a wooden question mark box - this symbol is a brilliant bonus symbol that can help you make big wins. There is also a stamp-like symbol that can give you free spins in order to make more wins.
How to Play
Before playing Aloha! Cluster Pays here at Slot Shack, it is a good idea to read over the instructions because this game is different from various other slot games. This is because there are no paylines in this game. In order for you to win cash prizes, you must spin a number of symbols of the same kind on the reel. When you read over the instructions you can find out other information about the game, for example, what the symbols are and what the bonus features include.
After reading over the instructions, you can begin to place bets. The higher the amount that you bet the more money you can win, to bet the highest amount click the max bet button and start spinning. If you would like to change your betting amount, click either side of the coin value button to bet lower or higher amounts.
Game Features
Much like many other slot games, Aloha! Cluster Pays has many great bonus features you are bound to love. The free spins feature is one such feature and is unlocked when 3 or more free spins symbols appear on the reel. The re-spins feature is unlocked at random with a cluster win; all the winning symbols are held and the reels spin until more of the same symbols appear.
The Cluster win is the truly famous mechanic of this game and it was first introduced here. Instead of using the typical paylines of a game, you need to gather groups of matching symbols. They can be in any reel so long as they can touch. NetEnt has since introduced this mechanic in some of their other games and we can see it from other developers too.
Fly off and take a trip to a paradise island now with Aloha! Cluster Pays!
Game Stats
Paylines
Cluster Pays
Min. Bet
£0.10
Max. Bet
£20
Bonus Round
Free Spins, Respins