Asteroids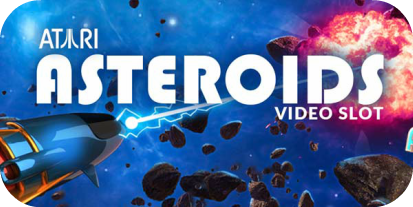 The original instalment of Asteroids by Atari was released way back in 1979 and the game saw massive success and went on to become one of the most popular video games of all time. The original arcade game let you play as a spaceship deep out in space and the aim of the game was to shoot and destroy the flying saucers.
Pariplay has decided to recreate the game in slot form and we have a fantastic tribute to the original game right here on Slot Shack!
Design
Atari Asteroids looks fantastic as a five reel slot machine and the revamped graphics really breathe new life into the franchise. The black background sets the scene nicely and you will feel like you are deep out in space just as you do with the original. This game animates nicely and a lot of the spaceships move around the screen even when you are not spinning the reels.
On the reels themselves, we have a number of items including various letters to complete the base game filler symbols. You will find various weapons and spaceship forming the bulk of the higher-value symbols as well some bonus symbols which trigger the additional playable content features.
Game Features
Players can take advantage of some free spins when you can land the free games symbol three or more times. The free spins symbol is the big globe so you cannot miss it and there are up to 30 free games on offer which is a fantastic amount for very little effort.
There is also a wild symbol which is orange and it will substitute for most others on the reel and help you pick up some larger than average wins so look out for it as it can help you win big by sticking and expanding to the reel. Additionally, there are 720 ways to win on Asteroids so plenty of ways to pick up some winning combinations.
Game Stats
Paylines
720
Min. Bet
£0.50
Max. Bet
£25
Bonus Round
Free Spins