Koi Princess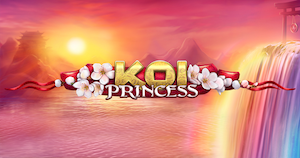 If you love all things Asian inspired then be prepared to fall head over heels for this proud new addition to our Slot Shack collection.
Koi Princess will take you into Ancient Japan for your chance to win the heart of a royal. Take on the reels of this NetEnt game and you could bag yourself a regal jackpot before you know it.
Design
The design of this game really makes you feel like you're exploring history when you play it. The Koi Princess herself will watch your progress from the side of the five reels and three rows. Many slot game players love the style of this game, as it's so unlike any other on the market.
All of the symbols feed into the theme of the game, with dragons, fish and waterfalls appearing on the reels. There's an almost manga quality to the illustrations, something that will appeal to artistic fans. All of the betting options are located under the reels, where you can enable and disable certain features.
If you want to improve your chances of winning then there is a second mode to this game, which uses the bonus bet. This basically doubles the bet but also doubles the paylines and your chances of unlocking a bonus too. It's up to you whether you'd like to use this or not.
Game Features
This game is packed with eight different bonus features for players to check out. Some of them are triggered randomly and these can give you a bonus or added multiplier. On top of this, there are also bonus features that can be triggered by certain symbols.
These include two different types of free spins, which is much more than most games have. Players will spin the bonus wheel to determine which they will get when they unlock it with three bonus symbols. There's a lot going on in this game and you'll certainly want to make the most of it.