American Roulette1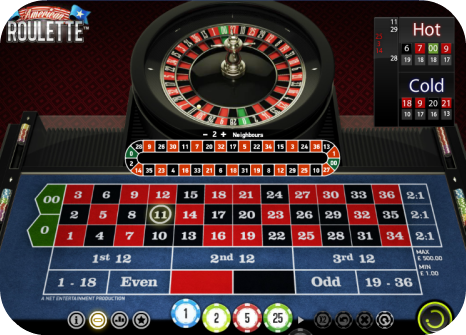 When it comes to online casino games, many players will tell you that roulette is the most exciting game out there. What we have here is the American version of the game, by Net Entertainment and it offers the player the chance to spin the roulette wheel with the aim of landing on some big jackpots.
Being the American version, there are subtle differences to its European counterpart which we will discuss below and remember, you can play it right here with us at Slot Shack!
Design
You will struggle to find a more detailed looking version of the game than this instalment. It looks fantastic with a superb array of details and options. The roulette wheel is always spinning and you will find the wagering table situated underneath. Players can also choose from an array of chips which vary in colour depending on their value with 1, 2, 5, 25, 100 & 500 all on offer for players so start small and work your way up.
The music is good enough although you can play with the sound off if you prefer. Overall, we cannot really fault the design – it's fantastic!
Game Features
The main difference between American and European Roulette is that the American version has an additional green pocket known as the double zero pocket. Other than that, further differences are pretty subtle. For this instalment, there are 38 pockets in total and players need to try and predict where the roulette ball will land on the wheel.
You can bet on any number of variables such as the colour the ball will land on, even or odd numbers or even a specific number on the wheel. The odds you receive will reflect the probability of your prediction being successful so bare this in mind. Players also have access to a statistics page and also the pay table so check these out if you want more info on payouts.
Game Stats
Paylines
N/A
Min. Bet
£1
Max. Bet
£500
Bonus Round
N/A