Blackjack Pro
A lot of our loyal players here on Slot Shack will tell you that the most exciting casino game to play online is Blackjack. The online version can replicate the real thing pretty effectively and players can play against the virtual dealer with the chance to win thousands of pounds just like they would in a real casino!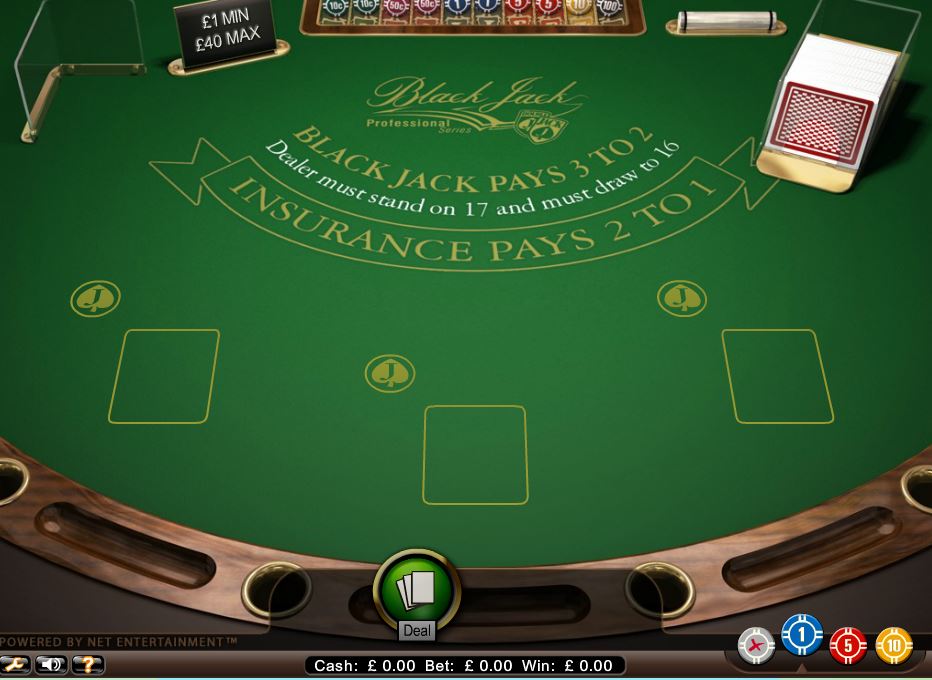 What we have here is Blackjack Pro by Net Entertainment. It's packed with great features to provide the ultimate Blackjack experience. If you've ever wanted to be able to take on the dealer in a casino and use your wits to your advantage, then this might be the game for you.
Players will be able to pick up the rules of the game in no time at all and you'll be a pro before you know it! We've got a quick rundown of this game that will get you started with this version of Blackjack.
Design
Net Entertainment is arguably the master when it comes to creating classic casino games and Blackjack Pro is a fantastic effort by the developer. This will suit both the new player and the Blackjack purist with its simply yet highly effective design.
The game chips are all clearly displayed at the top of the screen and are coloured according to value as you would expect. In ascending order you have green, pink, blue, red, yellow and black. The table itself is green and the player has the option of playing three hands at once which is fantastic and strikes a good balance for both new and old players. The sound effects are great and contribute well to the casino atmosphere.
Game Features
Blackjack Professional Series is played with 4 standard decks of 52 cards. The cards are numbered from 2-10 and count for face value. Face cards are all equal to 10 as is standard and aces are valued at either 1 or 11. For this version, player's cards are dealt face up with only one of the dealer's cards being revealed initially. The aim of the game is to beat the dealer and avoid going bust by drawing cards as close to the value of 21 as possible.
For additional features you have the insurance feature which can be purchased if the dealer immediately draws an ace card and the player can bet an additional 0.5 times their base bet and if the dealer gets Blackjack then the player will win 2 times his insurance bet which is useful.
The player may also double their bet after viewing their initial two cards. You will then be granted one additional hit to complete the hand. If you want a game that has more than just the basic features, then we can definitely recommend this one.
Blackjack Pro is a lot of fun and there are some helpful features in this game that will help you to get to grips with it. Play it here at Slot Shack for a fantastic experience.