Casino Hold'em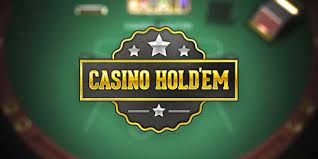 There are more versions of poker than ever before available to play online and trying to find the game that is best for you can take time. The key is to play different variants as different versions will suit different players. We're here to tell you about the fantastic Casino Hold'Em by Net Entertainment and it has some nice features and jackpots to be won for the lucky few.
We have it right here at Slot Shack and all the details on how to play effectively are detailed below. You can take a read through our review, or just get playing if you would prefer!
Design
Casino Hold'Em really is a stunner of a game and the level of detail on the interface is impressive. The high-quality graphics are something that we have come to expect from games by Net Entertainment and the sound effects and music are also brilliant, although you can turn them off if you wish.  
The game table is green as you might expect and players can choose from a variety of chips when they play Casino Hold'Em. They are all different colours and are labelled as 10c, 50c, 1, 5, 10 & 100 in value. This game is played with one standard deck which is dealt as you play. The controls are displayed at the bottom of the game and are clearly labelled.
Overall, the game feels like a highly polished one, with features that will be sure to delight players. If you've never played poker before, you don't need to worry as there are instructions included in the game too.
Game Features
The game uses the standard rules of poker and players can go aces high or aces low. Basically, you are playing a simple Hold'Em game against the virtual dealer so start by selecting a chip and placing it on the Ante circle. This will begin the game and this bet cannot be changed but you can also place a wager on the AA Bonus circle as well.
After you have settled on your betting options press the deal button and off you go! You will receive two hole cards and three community cards which will be placed in the centre. You can either fold at this point or call. If you call, the final two community cards will be dealt. The highest odds you can get are 100/1 for a Royal Flush and remember to check the paytable to see what you can win.
While there's a bit of a learning curve involved with any game of skill, getting through this will lead you on to a great experience. Stick it out and you'll be ready to beat the dealer with your dazzling poker skills. If you find slots a bit lacklustre and want a challenge then games of skill can definitely help - that's why we make sure we offers plenty of slots and casino games.
So what are you waiting for? Take your place at the table and enjoy the best Casino Hold'Em has to offer.
Game Stats
Paylines
n/a
Min. Bet
£1
Max. Bet
£100
Bonus Round
n/a