Deuces Wild Double Up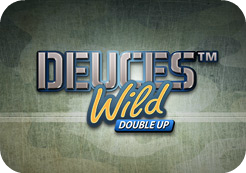 If you are an online casino player then you will perhaps be aware of just how many variations of video poker exist on the web. There are hundreds of different versions of the game to choose from but here at Slot Shack, we try and have only the best games on our site for our loyal players to enjoy.
Deuces Wild Double Up is a high-quality video poker instalment by the reputable Net Entertainment and it really is a great game packed with features.
You can win massive sums by playing this so read our review for all the facts.
Design
This game has undergone a redesign so it looks crisper than ever with a sleek interface that is really easy to operate. The layout is appealing with a dark and metallic backdrop on top of which is the paytable at the top of the interface and to the left of the interface also. These two tables contain all the information on what you will receive for a particular hand and your five cards are displayed slap bang in the middle of the screen.
The controls are located at the base of the game and it is here that you place your bets and draw cards. Additionally, the sound effects are pretty cool and will make you feel like you are right there in the thick of the action!
Game Features
All you have to do to play this game is select how much you would like to gamble (start small) and then press the big green button to have your cards dealt. The game is simpler than it looks and if a win is formed then the hand you have accumulated will flash on the left-hand paytable and you will be able to clearly see any multiplier that comes into play at this point.
After a round has ended and you have formed a win then you can move onto the bonus round. This presents the player with 5 face down cards and all you have to do is guess which colour each card will be as it is turned over. If you can guess correctly then your winnings will be doubled from the previous round. You can continue to try and double your winnings up to 5 times before the feature ends but remember if you guess incorrectly you will lose your entire win.
Game Stats
Paylines
N/A
Min. Bet
£0.10
Max. Bet
£10
Bonus Round
Double or Nothing